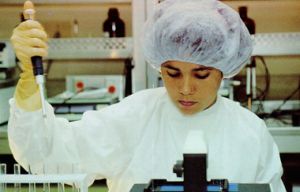 Cuba will begin this year the first clinical trials of the vaccine  against pneumococus developed by national institutions, announced on Wednesday in this capital  Doctor of Sciences Concepcion Campa, director of Havana's Finlay Institute.
In a press conference on Cuban vaccines, their results and achievements, during the first day  of sessions of the 6th International Seminar of the Caribbean Medical Association (AMECA), the  specialist said that the immunogen is made by the Center of Bio-molecular Chemistry and the  Finlay.
Doctor Campa, in an exclusive interview with ACN,  explained that pneumonia is one of the  causes of death not only in children but also in old people, and that this combined vaccine – of seven valences-, after being tested in humans, will be at the disposal of children and  adults in order to control the disease.
Eugenio Selman-Housein Abdo, president of the AMECA and of the organizing committee, informed  that the scientific program includes debates on genetic factors, culture, health, nutrition,  the environment, motivations and physical activity, and other aspects that are essential to  achieve satisfactory longevity.
Taken from AIN