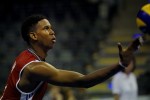 The Cuban men's volleyball team defeated Zcheck Republic, its first if three rivals, in 4 fought sets (27-29, 25-23, 25-23, 25-21) in the 2010 Olympic Qualification held in Germany.Cuba's best men were captain Wilfredo Leon with 16 points (10-attack, 3-block, 3 serves), Yenry Bell with 14 (11-1-2) and lefty Fernando Hernandez with 15 (12-2-1).
If predictions are met the collective led by Orlando Samuels will offer their most expected performance against Germany, on Saturday.
Four years ago and in similar situation, the Germans beat the Cubans and took the ticket to Beijing 2008.
The Cuban team would also have to face India, considered not to be a very strong rival.