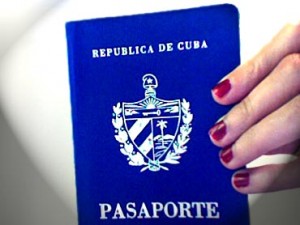 The Cuban television broadcast a special program on Wednesday night to deepen into details of updating the immigration policy of the country and to announce new measures taken in this field, in addition to those already reported last week
The new measures taken by the Cuban Government intend to promote exchanges between the Nation and the emigration and are also of interest to our people.
The first measure announced is that the temporary entry of those who emigrated illegally after the 1994 Migration Accords is normalized as they may return when eight years passed since they left.
The reform applies also to health professionals and elite athletes who left their missions abroad and manifested their negative to return to Cuba or those who illegally left the country after 1990.
Who is exempt from this treatment? Those who left through the illegal Guantanamo Naval Base, in this case for reasons of national defense and security.
Another measure is to expand the grounds for repatriation of persons residing abroad as emigrants, for instance those who left the country with less than 16 years old and others on humanitarian grounds, including those who need to return to take care of their family in Cuba or having other substantial reason.
The repatriation process has been improving in recent years, and many people with the status of emigrant for different reasons have been returning to Cuba and have been welcomed. The Resolution of the Interior Ministry (MININT) establishes the terms and procedures to be followed for this topic.
And finally, Cuba also regularizes the country visits of Cuban citizens who immigrated illegally when they were under 16. They did not not require the term of eight years, as they were minors and were drawn into this illegal adventure by adults and are believed not to have had the will to leave their countries. Therefore, they can return home even if they went out illegally.
These would be the new measures announced by the revolutionary government to further strengthen and deepen the relationship with the Cuban emigrants which reaffirm the principle that Cuba will continue to pursue legal, organized and safe emigration.
Translated by Escambray