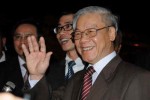 Cuba and Vietnam will strengthen bilateral ties during a visit that a delegation from that Asian country, headed by the general secretary of the Vietnamese Communist Party, Nguyen Phu Trong, begins on Monday in Havana.

Shortly after arriving at the Jose Marti International Airport on Sunday night, Nguyen told the press that the objective of his official visit is to exchange with Cuban leaders about the measures to "further strengthen comprehensive cooperation."
These concern actions in tune with the demands from the current revolutionary causes in both countries, stated the Vietnamese leader, who described ties between Havana and Hanoi as "close, of mutual confidence and forged by more than 50 years."
According to the program of the visit, in response to an invitation by the First Secretary of the Communist Party's Central Committee and President of Cuba, Raul Castro, Nguyen will hold talks with authorities and will participate in activities of solidarity.
The visitor will also pay tribute in this capital to Cuban National Hero Jose Marti and Vietnamese revolutionary leader Ho Chi Minh.
The Vietnamese delegation is made up of Politburo member Pham Quang Nghi, Deputy Prime Minister Nguyen Thien Nhan and Foreign Minister Pham Binh Minh, as well as the ministers of Industry and Trade, Planning and Investments, Agriculture and Rural Development, Finances and Construction.
Nguyen and his top-level delegation arrived at the international airport on Sunday, at 22:30 hours, local time (02:30 GMT). They were welcomed by Jose Ramon Balaguer and Victor Gaute, members of the Secretariat of the Cuban Communist Party's Central Committee.
Taken from Prensa Latina