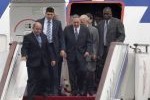 The Cuban Presidente Raul Castro and his Russian peer Vladimir Putin are to meet on Wednesday in Moscow to strengthen the bilateral cooperation, as the former initiates an official visit to the Russian Federation on July 11.
According to Granma daily newspaper, Raul Castro is being accompanied by the vice-president of  Cuba's Council of Ministers Ricardo Cabrisas, and foreign minister Bruno Rodriguez.
"The upcoming meeting will be the continuation of the bilateral contacts at the highest levels, and will be the third for the leaders of the two countries", explained the sources while adding that the previous rendezvous were held on December 2000 in Havana, and on February 2009, in Moscow.
The talks will focus on the development of the bilateral cooperation in different spheres, mainly in trade and investment, as well as on some key projects on energy, transportation and telecommunications.
The Cuban head of state previously visited China and Vietnam, where he met with top government and party officials in both countries.
Taken from Cubasi/Translated by Escambray