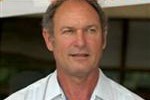 Sport leader Alberto Juantorena and journalist Aurelio Prieto, the two of them Cubans, have been nominated for the Eureka 2012 Prize, granted by the World Council of University Academics and Researchers (COMAU).
Orlando Terre, president of the world organizations of Special Education and Education, Stimulation and Children's Development, told ACN that Juantorena, vice-president of the Cuban Sports Institute, aspires to the prize in the category of Personalities of Knowledge.
Aurelio Prieto, a Cuban television producer and reporter, is among candidates in the category of Publications and News Programs, for his documentary El mundo de las almas ricas (The world of rich souls), on the "Solidaridad con Panama" special education school.
The awards ceremony will take place in Cuba on the occasion of the 3rd World Biennial on Education, Stimulation and Children's Development, to be held at Havana's Convention Center on November 6.
The Eureka Prize is given to persons who, in their exercise of politics, education and research, and in the use of their humane and professional practices, pave the way for the construction of a better world.