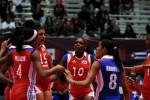 Cuba defeated host Mexico in straight sets (25-17, 25-14, 25-9) on Tuesday to win Pool B of the North, Central American and Caribbean (NORCECA) Women's Olympic Qualification Tournament that is underway in Tijuana, and in the process advanced directly to the semifinals of the competition.
Yanelis Santos was the top scorer for the winners with 15 points "including nine aces"  while Wilma Salas and Rosanna Giel contributed 11 units apiece.
Thus, the Cuban team concluded the preliminary stage undefeated as they had also taken 3-0 wins over Trinidad and Tobago, on Sunday, and Costa Rica, on Monday.
The other squad that advanced directly "and also undefeated" to Thursday's semifinals was the Dominican Republic, following a 3-1 (22-25, 26-24, 25-19, 25-19) victory over Puerto Rico on Tuesday night.
On Wednesday, in the quarterfinal stage, Mexico faces Canada and Puerto Rico takes on Costa Rica for the two remaining spots in the semifinal round.
The tournament grants only one ticket for the 2012 London Olympic Games.
Taken from AIN