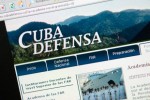 The first Cuban website dedicated to national defense has been activated offering information about the island´s Revolutionary Armed Forces and military doctrine.
Readers interested in this topic will only have to go to www. cubadefensa.cu to learn about the Cuban defense conception and the political-military history of the Caribbean nation.
Colonel  Jorge Galván, director of the Verde Olivo publishing house said it was crucial to launch a site showing the truth about the country , the conception of military preparation not only of the armed forces but also that of the people, and reject the mainstream media´s attempts to discredit the image of Cuba.
The page includes the concept of the Cuban military doctrine, an image gallery, a glossary of terms, literature and different issues of the magazine Verde Olivo, among other things. The website can be accessed from any country of the world.  (Taken from RHC)