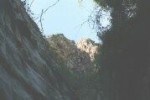 Speleology experts from Sancti Spiritus recently found what is considered the highest karst cavity in the island. The 1029m-over-sea-level cave was found in the Guamuhaya mountain chain was named Furnia de los Perros.
Alejandro Romero Emperador, President of the Speleology Society in this territory, told Escambray that a nearby 9501029m-over-sea-level cave had been considered Cuba's highest up to now.
This is another important discovery made by the members of the local Sama speleology group, who also discovered, in the same area, the country's deepest cavern (The Cuba-Hungria cave), found 440m below sea level.
Other interesting findings by these speleologists are the world´s highest stalagmite (63 meter high) in the Martin Infierno cave; a carnivorous plant that eats small insects and eleven new types of spiders that live in the Guamuhaya mountain chain.