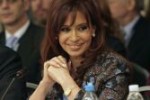 Argentine President Cristina Fernandez was released from hospital on Saturday after being hospitalized for 72 hours and having undergone a total thyroidectomy, announced Secretary of Public Communications, Alfredo Scoccimarro.The definitive histopathological examination confirmed the presence of nodules in both lobes of the thyroid gland, but ruled out the presence of cancer cells, modifying the initial diagnosis, according to the final medical report, read by Scoccimarro.
After this favorable diagnosis, the medical team established that surgical treatment is sufficient and that it is not necessary to administer radioactive treatment, the report said.
Fernandez was given a discharge and traveled by helicopter with her children Florencia and Maximo to the presidential residence in Olivos.
On January 4, Cristina Fernandez had an operation on what was supposed to be a papillary carcinoma in the right lobe of the thyroid gland, detected on December 22 as a result of routine checkups.
Hundreds of citizens kept a vigil in the vicinity of the medical facility, expressing their support for Fernandez, who also received countless expressions of solidarity and affection through social networks.
From the time that surgery was announced, the Presidential Medical Unit said that Fernandez would remain hospitalized for about 72 hours, with 20 days of convalescence, so her leave will last until January 24.  (Taken from PL).