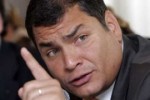 Ecuadorian President Rafael Correa will criticize the Inter-American Human Rights System at his meeting with the secretary general of the Organization of American States (OAS), Jose Miguel Insulza, who will arrive in this capital on Thursday.
"We have lots criticisms of the OAS, an institution that has been the ministry of the U.S. colonies as it was called by the leader of the Cuban Revolution, Fidel Castro", Correa told reporters in Guayaquil, the capital of Guayas province.
The president said that he will chiefly express the opinion regarding the Anglo-Saxon vision of human rights, which gives a negative image of the State and presents journalists as persecuted.
Correa recalled that the power of the media in Latin America is stronger than the power of the State, and progressive governments are often persecuted by that power.
The Ecuadorian head of government said that it will be very hard to achieve a deep OAS reform that really represents the interests of all member countries of the inter-American system.
The secretary general of the Organization of American States will begin an official visit to Ecuador on Thursday, where he will attend an audience with Correa, accompanied by Foreign Minister Ricardo Patiño. (Taken from PL)