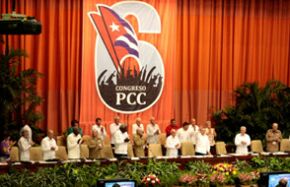 The 1st National Conference of the Communist Party of Cuba (PCC) was started this January 28th, with the attendance of 811 delegates and presided over by Raul Castro, first secretary of this organization in the island. Attendees to the meeting, to be run until Sunday at the Havana's Conference Center, will assess the work of the political organization and will focus on the conscious participation of Cubans in the economic battle.
That objective is the main task of the PCC political-ideological work, according to the agreements of its 6th Congress, held in April 2011.At that time, the PCC reaffirmed its decision to maintain a closer link with the grassroots to fulfill the accords and resolutions, not only in the social and economic spheres, but also regarding political and ideological issues.
Today, the delegates will make more emphasis in training cadres, so that they can play an active role in the implementation of the Economic and Social Policy Guidelines, approved at the 6th PCC Congress. (Taken from PL).