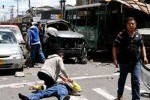 The House of Representatives of Colombia approved a draft bill to establish a legal peace framework in the country for a possible negotiation with armed groups on the margin of the law.
The draft bill was ratified by 126 votes in favor and four against. It should be now debated in the Senate of the Republic.
The voting occurred after an explosion in the capital against former State Minister Fernando Londoño, and some hours before a car bomb was deactivated.
Meanwhile, President Juan Manuel Santos expressed gratitude to the Congress on his Twitter account for the approval of the draft bill despite the attack.
For the government, that draft bill will provide the president with the necessary tools to seek a possible end to the internal armed conflict through negotiations with armed groups. (Taken from PL)