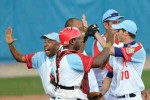 Excellent pitching by Osmar Carrero and spectacular offensive, including 4 homers, led Ciego de Avila Tigers to victory 10-2 vs. Industriales, in the 4th game of the Cuban baseball final, thus tipping the balance 3×1 in the general subseries.
Tigers reacted in a sensational manner after being defeated in the third game, in which they were 3 outs away from victory and Lions got to win in extra-inning.
Undoubtedly, Sunday's protagonist was 24 years old Osmar Carrero, inexperienced in playoff stage despite his 6 seasons. "This was the game of my life; I don't know what to say. This is great, incredible. I prepared myself for this game and the result came", said Carrero to Prensa Latina News Agency.
Ciego de Avila's hurler worked in 8 chapters, allowing 8 hits, walking two adversaries, with only one strike out and two runs, to finally obtain his 3rd win in the current playoff.
Tigers' spectacular offensive supported their starter's performance, as they shot 16 hits, including 3 doubles, triple and 4 homers before 6 rivals (3 rookies).
International Rusney Castillo led the batters with 2 homers and a single, bringing 4 runs over home plate and scoring twice.
Thus, Ciego de Avila got their 3rd triumph in the Cuban baseball final and is only one game away of obtaining the championship, as the playoff subseries are structured in seven games, and the first arriving to 4 wins gets the victory, in this case, the title.
Taken from Cubadebate/Translated by Escambray