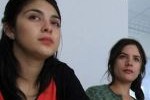 Fidel has become an example of struggle, of consequence; he's a man that transmits solidarity…, said Karol Cariola, who together with other Chilean leaders met with the historic leader of the Cuban Revolution.
Fidel Castro met this Wednesday afternoon with the members of the delegation of the Communist Youths of Chile (JJCC), who are visiting the island on occasion of the Cuban Communist League (UJC) 50th anniversary celebrations.
Karol Cariola, general secretary of the JJCC; Luis Lobos, member of the JJCC executive committee; and Camila Vallejo, vice-president of the Student Federation of the University of Chile (FECh), held an over-three hour talk with Fidel, who handed over to them his book Fidel, Guerrillero del tiempo.
(Taken from Cubadebate and translated by Escambray)