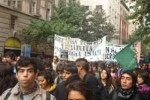 Thousands of students, workers and citizens took the Alameda Avenue today to demand concrete changes in the political model of the country, marked by abysmal social inequalities.
Mobilization is the main tool of the social movement to demand action by the authorities, stated on Wednesday the student leader, Camila Vallejo, at the beginning of the first protest at the Alameda in 2012.
Vallejo, who is the Vice President of the Student Federation of the University of Chile, forecast a new wave of mass demonstrations for structural changes in the socio-political model. We hope to gradually increase the call, he said.
She said she is convinced this is the beginning of a new stage in the struggle for the establishment in the country of a system of free public education guaranteed by the state and radical changes in many areas of society.
Meanwhile, Daniela Lopez, spokesperson of the Confederation of Students of Chile, said that with the return to the marches they seek to show the transformation of the student movement from a trade union to a broad social organization that fights for changing the political model as a whole.
In addition, the Association of Teachers of Chile supported the protest call by the university leaders and praised in that sense the meaning of unity.
In this regard Barbara Figueroa, representative of the teachers' union, said there is a high convergence between students and teachers. (Taken from PL)