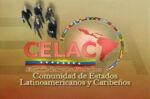 The foreign ministers of Chile, Cuba and Venezuela host on Monday in this capital the first meeting of the troika that their governments make up in the recent founded Community of Latin American and Caribbean States (CELAC).
The meeting is led by Chile´s Foreign Minister Alfredo Moreno, who will also hold bilateral meetings with his peers Bruno Rodriguez (Cuba), and Nicolas Maduro (Venezuela).
The day's agenda also concludes a news conference, to announce the results of the meeting of the troika, the Chilean Ministry of Foreign Affairs stated.
The CELAC constitutive assembly took place early December in Caracas with the support of the leaders of the 33 countries of Latin America and the Caribbean.
In that time, Chile was the president pro tempore of the bloc, so it will host the next summit in 2012.
By assuming such responsibility, Chilean President Sebastian Piñera promised that his government will make greater efforts to work jointly with his peers from Cuba and Venezuela.
The troika is comprised of Venezuela as the outgoing president pro tempore (summit host), Chile as the current president (to host the 2012 summit) and Cuba as the future president (the 2013 summit host).
Heir to the Latin American and Caribbean Summit (CELAC) and the Rio Group, the new pro-integration bloc established to take shape common positions around the Falkland Islands, food and nutrition security, financial speculation and food prices.
Taken from Prensa Latina