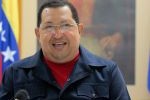 Venezuelan president Hugo Chavez reiterated over the weekend that he is successfully recovering from surgery in Cuba, where he had a pelvic lesion removed last week. "We are very optimistic", said the leader.In a TV broadcast aired on Sunday, Chavez commented on his recent meetings with his Cuban counterpart, Raul Castro, and with the leader of the Cuban Revolution, Fidel Castro, as well as his telephone conversations with several Latin American heads of state and government.
"We are very optimistic. Scarring is occurring at a normal pace, and digestion also is normal" he said and added that his vital signs, including blood pressure, were favorable and that he had no fever, hemorrhages or infections.
"As I said in Caracas, it was most likely that the lesion was malignant. The entire lesion, measuring two centimeters, was removed, but almost everything indicated that it was likely cancerous, what they call a recurrence",  explained the Venezuelan leader before announcing that he will undergo radiation therapy once the scarring process finishes, and that other kinds of treatment are not ruled out.
In the TV broadcast, accompanied by Foreign Minister Nicolas Maduro and other ministers, Chavez said he has been supervising his cabinet; he also discussed his government's housing and employment programs and rejected the ongoing "armed and mercenary" aggression against Syria.
By AIN