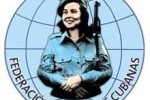 After 52 years of its creation, the Federation of Cuban Women (FMC) has the challenge to improve and update the country's economic model, and assume new roles in the current time, Granma newspaper reported today.
The daily recalled today the foundation of this important organization, which after the revolutionary victory in 1959, it brought together all women's groups of the country.
More than four million Cuban women currently comprise the FMC. Its objective is to listen to young people and housewives, and foster ties with workplaces, where female's presence predominates, to know their concerns and needs.
Other challenges are to ensure the continuity of education of the new generations and instil the country's need of middle-level technical personnel and skilled workers, including non-traditional jobs for the genre.
According to the publication, the FMC action, since its beginning allowed the constant improvement of women, the performance in different professions and trades, and ensure the ascending integration of Cuba's women in social, political and economic life.
Vilma Espin, who was a member of the Council of State and directed the Commission for the Care of Women, Children and Youth of the People's Power National Assembly, was the president of this grass-roots organization since the beginning.
She participated in the formulation of laws having to do with women, discussion and development of the Family Code, adopted in 1975. (Taken from PL)