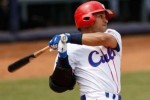 Cuba's game vs. Netherlands was cancelled for Friday 1:00 pm (local time). Victor Mesa's players are to search their second victory in the short tourney in order to enter the semfinals.
Homer by Sancti Spiritus Frederich Cepeda with Yuliesky Gourriel on base gave Cuba the first victory in the Harlem Baseball Week over Chinese Taipei in a very tight game ending with a 2×1 score.
For seven chapters, righty Meng Chen Fan mastered the Cuban team by forcing them to shoot over 17 flies. However, when dominating Castillo in the 8th, Gourriel managed to get walked leaving the scene ready for Cepeda's homerun, who became the hero of the game as Cuba needed desperately to win in order to dream with semis.
Cuba's starter Odrisamer Despaigne worked in 4 1/3 innings with 77 pitches, allowing a single unearned run by error of Rudy Reyes. Then, the manager brought in Yadier Pedroso who stopped the Asians during 46 pitches.
Sancti Spiritus Ismel Jimenez entered in the 8th and was credited the victory with saved by Pablo Millan Fernandez who forced Chun Chieh to double play and eliminated the threat in the 9th.
On Wednesday, Victor Mesa's players will face Netherlands in a game scheduled for 1:00 pm (local time).
Taken from Radio Rebelde/Translated by Escambray