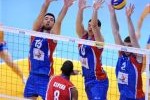 Sancti Spiritus Rolando Cepeda and captain of the Cuban team Wilfredo Leon, were both key elements in their country qualifying for 2012 FIVB Volleyball World League Finals after beating Serbia on Thursday.
With triumph 3-2 (24-26, 25-16, 21-25, 26-24 y 15-13) over Serbia squad, Cuba topped Pool A with 25 points, followed by Serbia (16), Russia (15) and Japan (4), as reflected in the official website of the tournament.
The most notable players of the match were Wilfredo Leon  and Rolando Cepeda, both with 22 points, and Henry Bell with 17, while Serbians Aleksandar Atanasijevic (15), Milos Nikic (14) and Uros Kovacevic (12) outstand for their team.
According the website, Cuban head coach Orlando Samuels said to be very pleased with the result. "I want to congratulate my players for reaching the Final Tournament because we didn't think that we would do it this year, because frankly speaking, Serbia and Russia are two of the best teams in the world. As for the match, no matter who plays on the court it is always very difficult to play against Serbia. Of course, we are very happy with this victory, it was a good and unpredictable match that both teams could have won."