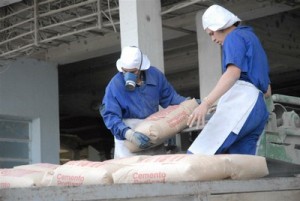 Nearly 3 000 bags of cement are transferred every day from the Siguaney cement factory in Sancti Spiritus, to the eastern Cuban provinces which were hit by hurricane Sandy.
According to information provided by Yonis Valdivia, director of the cement plant, Sancti Spiritus has been scheduled to deliver 240 tons of P-350 cement, which are distributed via the railroad.
"It's been very long since we last used this kind of distribution. Cement is sent both to Holguin and to Santiago de Cuba -Valdivia said-, and although we will continue sending cargos as long as necessary, our major destinations (Ciego de Avila and Sancti Spiritus provinces) will be supplied as well".
Over 100 000 tons of cement has been produced in the Siguaney factory this year, which is considered key factor for investments in central Cuba. This was the first factory to use Cuban oil in the processing of cement at the cement kilns, and is the country's only industry that produces white cement.