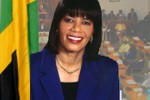 The prime ministers of Jamaica, Portia Simpson, and of Antigua and Barbuda, Winston Baldwin sent Cuban President Raul Castro messages of congratulations on the occasion of the 54th  anniversary of the Revolution.
According to the Cuban Foreign Ministry, Jamaica's Portia Simpson underscored the historic and cultural relations between her country and Cuba.
Simpson also stressed the achievements of the Cuban government and people in promoting sustainable development and social justice, as well as the island's contribution to regional integration and friendship among the nations.
The Jamaican PM reiterated her government's willingness to keep expanding relations with Havana either through bilateral mechanisms or the Caribbean Community (CARICOM).
Meanwhile, Antigua and Barbudas' Prime Minister Winston Baldwin stressed the meaning of the Cuban Revolution and reiterated his willingness of deepening friendly and cooperation relations with Havana.
On January 1st, Cubans will celebrate the 54th anniversary of the revolutionary victory headed by Fidel Castro over the former Fulgencio Batista dictatorship that ruled the country since 1952 after having staged a military coup.