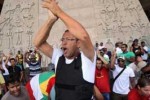 Brazilian President Dilma Rousseff said on Thursday that she is horrified with the plans of Bahia state police officers on strike for better wages to carry out vandalic actions to get their goal.
"I was horrified when I heard recorded phone conversation among striking police leaders on TV Globo television channel, on the fact that there are other interests involved in the strike". "That is not correct", said Rousseff during a visit to the Transnorestina Railroad works, in Pernambuco.
In the recorded phone conversations, the striking police officers talk about setting trucks ablaze and blocking one of the main highways of that area of the country, as well as to extend the strike to other states such as Rio de Janeiro, and Sao Paulo.
Brazil has today a modern view of law and order and it is not correct to spread panic, fear, and create situations which are not compatible with a democracy, said the president.
Thursday morning, the striking police officers got out of the Bahia state legislature building, which they occupied ten days ago to demand better wages.
Rousseff said that she is still waiting for the end of Bahia police officers' strike, who are now in a new round of negotiations with the state authorities to put an end to the protest. (Taken from PL)