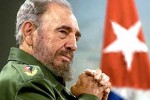 The book El derecho de la humanidad a existir (The Right of Humanity to Exist), a selection of reflections on the environmentalist thinking of Commander in Chief Fidel Castro, will be presented at the United Nations Conference on Sustainable Development (Rio+20).
As reported by the National Television Newscast, the text is a selection of ideas and messages by the leader of the Cuban Revolution related to the environment and the current threats to the survival of human race.
Argelia Fernandez, an official with the Environment Agency, explained that it's a joint work by that entity of the Ministry of Science, Technology and the Environment and the Foreign Ministry.
According to Fernandez, the book that will be presented at the Rio+20 "a forum slated for June 20th through the 22nd in Brazil- tackles issues like poverty and society, food safety, threats to the planet and climate change.
The Right of Humanity to Exist groups reflections and ideas by the Cuban leader expressed between 2007 and 2012, and the first pages are dedicated to his speech at the Earth Summit 20 years ago, when he called the attention of the international community with the phrase: "An important biological species is in danger of disappearing due to the fast and progressive destruction of its natural living conditions: mankind", a message in which he has insisted since then.
Taken from AIN