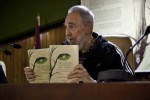 Colombian peace activist and former senator Piedad Cordova attended the launch of the book "Fidel: Time Warrior" on the life of the leader of the Cuban Revolution, Fidel Castro" in Bogota, on Tuesday.
The volume was launched by its author, Cuban journalist and writer Katiuska Blanco, during the 25th International Book Fair that is underway at the Corferias exhibition hall in the Colombian capital.
Cordoba described the event as very moving and noted that Fidel Castro is "a man that has made history, not only in the Americas, but also in the world".
Also present in the launch of the book was Colombian poet, essayist and journalist William Ospina, who told anecdotes related to the historic leader of the Cuban revolution.
Personalities of the Colombian cultural and political sectors, as well as representatives of trade unions and solidarity groups, attended the event. Also present was the Cuban ambassador to Bogota, Ivan Mora.
"Fidel: Time Warrior" is a compilation of a six-hour conversation between the Cuban leader and the journalist, and it reflects Fidel's ideas and revolutionary thinking as well as important moments of his childhood and adolescence.
Taken from AIN