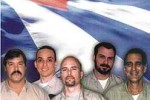 The book "Estados Unidos Grotesco, Obama, Libera a los Cinco" (Grotesque United States, Obama, Free the Five), by Japanese journalist Tsuzaki Itaru, was launched in this capital in the presence of Cuban First Deputy Foreign Minister Marcelino Medina.
Itaru devoted his work to the leader of the Cuban Revolution, Fidel Castro, and the Cuban people as a contribution to the struggle for the release of the five Cuban antiterrorist fighters unjustly held in U.S. prisons since 1998.
Cuban Ambassador to Japan Jose Fernandez de Cossio thanked Itaru for this show of support for one of the noblest and important causes his country currently defends.
Summarizing the cases of Rene Gonzalez, Ramon Labañino, Fernando Gonzalez, Antonio Guerrero and Gerardo Hernandez, the diplomat stated that their backgrounds are in the permanent hostility of successive U.S. governments to destroy the Cuban Revolution, including terrorism.
Fernandez de Cossio noted that the first book in Japanese language about the Five, as they are known internationally, tackles the multiple and important solidarity actions carried out in Asian nation. (Taken from PL)