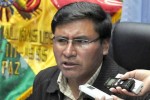 The leader of Bolivia´s ruling party Movement towards Socialism (MAS), Roberto Rojas, denounced that a coup-oriented conspiracy by the opposition is underway in the country.
Rojas said that the backdrop of the most recent marches, strikes and protests in Bolivia is a conspiracy against President Evo Morales, mainly by two rightwing parties.
The two organizations want to stage a coup against our government and against Evo Morales, Rojas pointed out, as cited by Prensa Latina news agency.
The party leader explained that the demands issued by the Bolivian Workers Confederation run contrary to the country´s reality since they include a salary hike of some 1300 dollars. (Taken from RHC)