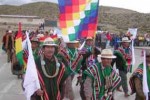 Bolivian President Evo Morales will meet on Tuesday in Cochabamba with mayors of the country's 327 municipalities to analyze the execution of many social programs.The president seeks to organize, program and speed up the implementation of works and projects to benefit the people. Among those government programs are "Mi Agua" (My water), and "Bolivia cambia, Evo cumple" (Bolivia Changes, Evo Fulfils).
Morales is concerned, above all, about the difficulties local authorities are facing to contract companies to execute those works, one of the reasons why he requested some concrete proposals at the meeting on how to implement them quickly.
In 2011, the "Mi Agua" program executed over 1,000 projects. Some of them are expected to be completed in the first six months of 2012, because the executing companies did not appear on time, or supervisers were missed.
Morales invited the mayors after meeting with representatives of private institution and social organizations, to create the Economic, Productive, Social and Labor Council.
The meeting with mayors is part of the proposals emanating from the Social Summit, held in early January in Cochabamba, where social organizations presented several proposals to improve people's quality of life. (Taken from PL).