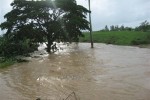 The dead bodies of the two persons who were reported missing after trying to go through flooded rivers were found this Saturday.
French citizen Alain Manaud's corpse was found at 17:15, one kilometer away from the mouth of the Cangrejo River, in Agabama, in a location known as La Vicentica. It was found by joined forces from the Ministry of Interior and the Municipal Defense Council in  Fomento, and will be sent to Havana's Institute of Legal Medicine.
Rescue forces from the Fire Brigade found the dead body of Silvestre Fortún Álvarez Lorenzo at 09:00, in the Santa Lucia micro dam , some 1 200 meters away from the place where the accident took place.
Cabaiguan resident Alvarez Lorenzo, 61, was dragged by the flood of the Santa Lucia River when driving a Lada car from a local school. The director of this institution was a survivor in this accident.