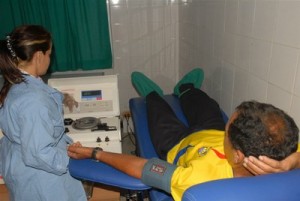 In the past seven months more than 11 400 blood donations have been made ​​in the Cuban central province of Sancti Spiritus in the four collection centers working throughout the year in the territory.
The province increased blood donations from October to May when compared to the same period of the previous year.
Dr. Jose Ramon Suarez, director of the Provincial Blood Bank, told the Cuban News Agency (AIN, for its Spanish accronym)  that the figure obtained in the last seven months ​​in the territory has overachieved the plan for that stage in  666.
The blood needed by patients in any health institution is guaranteed and this is due largely to the control we have of the donors, said the doctor.
Sancti Spiritus counts on four extraction centers working throughout the year, in 4 municipalities as well, and at certain times, some campaigns have been developed to prevent shortages of this therapeutic resource capable of saving lives.
Mario Luis Daria, a member of the Provincial Secretariat of the Defense Committees of the Revolution (CDR), said so far in 2012 the organization has been involved in the search for new donors because some have aged.
We already have, said Daria, about 400 young people who have linked to this activity on a voluntary basis, as they value its importance for the life of human beings.
Several state institutions have organized groups of donors, which have caused CDRs to declare them as promoters in the mission centers.
The World Health Organization chose June 14 as the day dedicated to recognizing the millions of people in the world who give their blood in an altruistic gesture of solidarity.
Taken from AIN/Translated by Escambray