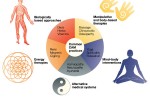 The 4th National Convention of the Cuban  Society of Bio-Energy and Natural Medicine (BIONAT 2012) kicks off  Tuesday in this capital aimed at expanding the local experience through  the exchange among experts in the field.
The convention includes the 5th National Homeopathy Conference, the  Floral Therapy Forum and other events on Traditional Asian Medicine,  Magnetic Therapy, and other specialties, according to the organizing  committee.
Participants will discuss presentations on clinical research and pre and  postgraduate training for doctors, dentists, psychologists, nurses and  paramedic personnel.
Alternative and natural medicine has been validated by research made by  the Cuban National Health system and it is used in the prevention,  diagnosis and treatment of diseases, as well as in the patients' rehabilitation stage.
The Cuban Health Ministry is jointly working with the Agriculture sector  to increase productions that are used in alternative medicine. This  effort is in tune with the guidelines of the Economic and Social Policy  of the Communist Party and the Revolution, which emphasizes the  development of natural medicine, said Doctor Marta Perez who heads the alternative medicine department at the Health Ministry.
Taken from AIN