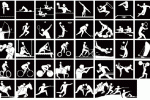 Cuba will have a discreet delegation to the 30th Olympic Games in London, UK in 2012, but the passionate followers of the sport in the island trust the outstanding performance of athletics and boxing.
The situation has varied in relation with the Beijing-2008 Olympics. There is not any imminent favourite for the yearned gold medals of gold, crucial in the chart by countries.
However, the two sports, track and field and boxing are taking the lead in the Cuban delegation, with a margin for other disciplines as freestyle and Greco-Roman wrestling, and judo, to mention some cases.
With athletics, the first and only great measurer in the season at the eyes of the Cuban fans will be on Sunday, May 27, in the Pan-American Stadium, a near scenario to the beaches at the east of Havana.
Of course, the maximum attraction is the current Olympic champ and world recordman of the 110 hurdle meters, Dayron Robles, a man who has already been sent signs of alert, by international athletes, such as Chinese Liu Xiang, an idol dethroned in his homeland in 2008.
The Havana Athletic Meeting, greeting the centennial of the International Federation of Athletics (IAAF), will gather the teams of Colombia, El Salvador, Venezuela, Costa Rica and probably Ecuador, Honduras, Mexico and Trinidad and Tobago.
Alberto Juantorena, double Olympic Champion of Montreal-76 and a member of IAAF, revealed that up to the moment Cuba has 45 athletes with the minimum records demanded for London-2012, willing to participate in the Olympics this year.
On Sunday there will be the presentation of Cuban athletes like Lázaro Borges, universal runner up in the male pole vault; Yargelis Savigne, one of the biggest female triple jumpers in the world at the present time; and female discus thrower Yarelis Barrios (68,03, second highest rank of the season).
Also, there will be male triple jumpers Alexis Copello, Yohandri Betanzos and David Giralt; male hurdlers Orlando Ortega and Dayron Capetillo and female pole vaulter Yarisley Silva. (Taken from PL)