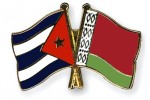 The President of the Republic of Belarus, Alexander Lukashenko, will pay an official to Cuba beginning tomorrow, Sunday, and will meet with Cuban head of state Raul Castro.
An article in this morning's Granma daily notes that Alexander Lukashenko was born August 30, 1954 and graduated with a degree in History at the Mogilev State University in 1975, studying Economy at Belarus  Agriculture Academy in 1985.
He served in the Soviet armed forces between 1980 and 1982 in border patrols.  Beginning in 1982, Lukashenko served in different administrative posts in the agricultural and industrial sectors.
In 1990, he was elected Deputy to the Supreme Soviet (Parliament) of the Republic of Belarus and in 1993 he was appointed president of the Parliamentary Commission against Corruption.
Lukashenko was elected President of Belarus in 1994 and later re-elected in 2001, 2006 and 2010. (Taken from RHC)