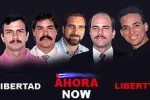 On the occasion of Father's Day, the Belgian solidarity association "Friends of Cuba" sent a warm congratulation to the five Cuban antiterrorist fighters unjustly held in U.S. prisons since 1998.
The organization's president Alexandra Dirckx stated that Gerardo Hernandez, Ramon Labañino, Antonio Guerrero, Fernando Gonzalez and Rene Gonzalez are prevented to be along with their relatives and friends in that special day.
Dirckx participated in a meeting with members of the Carlos Habre brigade, which recently worked in the restoration of a health center in the westernmost Cuban province of Pinar de Rio.
The activist used the occasion to extend her solidarity greeting to all Cuban fathers.
The students of the Belgian Technische Scholen Mechelen junior high school also wrote some letters to the five Cuban antiterrorist fighters unjustly held in prisons of that northern country, for preventing criminal actions against Cuba.
In the letter addressed to Gerardo Hernandez, they informed about the tour of many solidarity groups in the country to explain the situation and demand their immediate release.
"We have collected more signatures than the days you have been in prison," states the letter, and adds "even the quietest of voices could be heard when multiplied. We can and will achieve their release."  (Taken from PL)