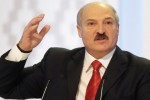 President of Belarus, Alexander Lukashenko, arrives Sunday on an official visit to Cuba, official sources said.
During his stay, the President will hold talks with Cuban President Raul Castro, and develop other activities planned, announces a note published in Granma newspaper.
Last May, Cuba and Belarus celebrated 20 years of diplomatic relations, and to mark the anniversary took place the franking of a commemorative stamp, activity attended by the deputy foreign ministers of Cuba and Belarus, Dagoberto Rodriguez and Sergei Aleinik, respectively.
Rodriguez said that Cuba supports the Belarusian government policy aimed at preserving national sovereignty and condemns the sanctions of the European Union and the United States against that country.
Aleinik described as strategic the bilateral ties based on mutual trust and mutual understanding, while highlighting the commonalities that advocate both countries in international forums. (Taken from PL)