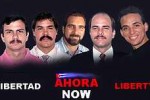 More than 200 activists from 33 countries have confirmed their planned attendance at the 8th Conference of Solidarity with the five Cuban antiterrorist fighters unjustly held in the United States, organizers said today.
According to Amaury Torno, delegate of the Cuban Institute of Friendship with the Peoples (ICAP) in Holguin, about 300 people from 50 nations are expected to attend the forum to be held in late 2012, in support of Gerardo Hernandez, Rene Gonzalez, Antonio Guerrero, Fernando Gonzalez and Ramon Labañino.
The meeting, called the 8th International Colloquium for the Release of the Cuban Five and against Terrorism, will develop global strategiesfor solidarity with the Five, detained in 1998 for monitoring violent groups based in Miami.
The largest delegations so far are from Italy and Canada, but an extensive representation is also expected from Venezuela, Torno told Prensa Latina.
According to ICAP, the forum, to be held November 28 through December 1, will be a new opportunity for all those interested in justice to come together in efforts to release the antiterrorists.
Gerardo, Antonio, Ramon and Fernando are still in prison, while Rene is currently serving three years of supervised release in the United States, a situation which has been denounced as an additional punishment.
The colloquium's agenda includes a cycling cup, Peace Camp tents, and meetings with relatives of the Cuban Five. The Five were trying to prevent terrorists actions launched against Cuba from the U.S., which have left more than 3,400 victims on the island over the years. (Taken from PL)