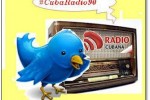 Cuban Radio broadcasting calls on all the people who love radio in Cuba, Latin America and the whole world to exchange on the Twitter social network from 9.00 a.m. to 13.00 hours local time on August 22 on the occasion of the 90th anniversary of the Cuban Radio.
This date marks the first broadcasts of this media, which were carried out by a Cuban musician and patriot Luis Casas Romero.
Hashtag #CubaRadio90 will be included in all contents published in twitter, which will highlight the history of the Cuban radio, mainly after the  triumph of the revolution in 1959, when the radio broadcasting began to expand throughout the country based on a unique ideology until the media turned into a right for all the people.
This action will also be a contemporary tribute to the creators of the Cuban Radio broadcasting system during its nine decades of existence, who have made the media a cultural icon for the whole audience.
Also as part of the activities for the 90th anniversary of the Cuban Radio broadcasting system , a forum for the participants to debate on the challenges the 96 Cuban stations are facing in the current global context of the social communication will be included.
The forum will also address the First International Biennial of the Cuban Radio which is taking place in Havana from August 20 to 24 and takes the opportunity to transmit a great embrace for all radio workers from different parts of the world who advocate the building of a better world for all people through the media.
Let's meet on Twitter this August 22, 2012 with hashtag # CubaRadio90!
(Taken from RHC)