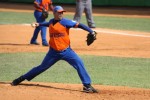 Air-tight pitching by international Ismel Jimenez led Roosters to a close victory 1×0 over Artemisa, and to obtaining their second subseries in Cuba's 52 national season.
Sancti Spiritus right-hander conquered his 2nd victory in the tourney with no loss, by working 8 innings in which he scattered 5 hits and stroke out 10 rivals.
With his triumph, Jimenez, one of the pillars of Cuba's pitching nowadays, is only five games away from his 100th win in national series.
In a pretty tight encounter, Sancti Spiritus Roosters managed to score the victory run in the 8th, when Yulieski Gourriel reached first base on walk, stole the second and got to third with Eriel Sanchez single, to finally be brought over home plate thanks to sacrifice fly by Livan Monteagudo.
Sancti Spiritus team shot 7 hits, Israel Sanchez, acting as reliever, took the loss. Omar Guardarrama saved the game.
This was the 5th victory of Roosters in the season. They are to conclude the subseries vs.  Artemisa this Friday in the local's headquarters.