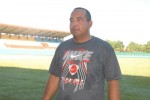 Aragon presents strategies for upcoming 52nd National Baseball Series.The pitcher-director ends his warming in the bullpen. From the stands, all eyes fixed on the box. In his repertoire: fastballs, curves, sliders, but also sang-froid, nerves, and attitude.
In front of him, an enigmatic rival; a team which recently had its palest performance of the last decade: eighth in the past season. For many, not a fearsome roster anymore, at least on paper. With nine first timers, including him, the game with adverse score has just begun.
However, Yovani Aragon Rodriguez asked for the ball and shoots his first bullet. Accustomed as he is to such challenges, the crucial game begins for him, the most difficult of his life.
"It is a tough task but with the passage of time we have adapted. I insist that we will try to use speed in function of the offense, which in the friendly meets we've held has been poor, but we always explain to the players that it's hard to win with a home run and we need to produce runs from the very first inning. We have also worked hard on the tactical plays, so I think we can have an outcome in the National Series. "
Other managers have had the same ideas, and these could not be made true in the season. What makes you think this time it's going to be different?
"They are going to make it. This is the idea I have and I will keep it. The vision of the team tells me we can have results. We will steal bases, if they got caught, well, that's a risk we are taking. We will make different plays"
Some people think this version of Roosters is weaker. What is your opinion about it?
"Since the very beginning I ask everyone to show their skills in the training sessions, especially those who had been in the team for one, two or three years without important outcomes in national series. Some had a low performance and we did not want to take chances, some were injured in the provincial tournament, specifically hurlers who are recovering now. At first sight, the team might seem weak, but its regular and pinch hitters maintain, that's why I think we can classify".
It is a fact that the catchers' area seems less strong. How will you handle it to support Eriel Sanchez?
"It's a key area. The players of that position have been told to deal with that issue, they stepped forward, and the results are yet to be seen. That's why we have 4 catchers, they're all young but they'll have their chances. Eriel is in good shape but we need to count on a second who can help us, mainly with defense".
Who would play the second base, now that Jose Ramon Alfonso returned to Ciego de Avila?
"We've used Lourdes Yunielki Gourriel (the youngest son of Lourdes Gourriel), and Yoandy Baguet, but Yunito is likely to be our option. He has improved a lot, mainly at pivot, and he's got greater possibilities at bat".
Designated hitter?
"Livan Monteagudo, as we think of placing Robersy Ramos in the right field".
How would you handle pitching in search of a winning rotation?
"We're planning three starters: Ismel Jimenez , Angel Peña and Noelvis Hernandez, with a five-day rotation; if needed, the 4th and 5th will be Yoen Socarras and Yamichel Perez. We have lefties and right-handed pitchers prepared to assumed the roles of holders or setters, and Omar Guardarramas and Yandri Matos as closers, the latter with great skills during the trainings".
Are you satisfied?
"I'm really happy with the players' effort and compromise. Through respect, trust and transparency we've reached an appropriate communication".
Have you worked on your nerves?
"You work on them, but they are still there"
You seem conservative in predicting, is it fear or lack of confidence?
"It isn't fear, I just don't like predicting. We prepared for the first 45 games and to move on to the second phase. For us there isn't a team stronger or weaker than other. Athletes have in their minds that we always have to fight for the victory. We have two goals: the first, classifying, and the other, to win subseries step by step…We'll talk again in February".