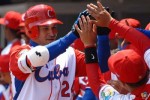 Sancti Spiritus baseball players Yulieski Gourriel, Frederich Cepeda, Ismel Jimenez and Yenier Bello are part of the Cuban baseball team readying for the upcoming World Baseball Classic to take place on March 2013.
Cuba's preselection preparing for a tour for Asia and Europe that will serve as training for the next World Baseball Classic was announced on Thursday by the Baseball National Commission.
The group is made of 6 catchers, 18 infielders, 9 outfielders and 23 hurlers, for a total of 56.
The pre is the following:
Catchers: Ariel Pestano Valdes (VCL), Frank Camilo Morejon Reyes (IND), Yulexis La Rosa Aguila (VCL), Yosvany Alarcon Tardio (LTU), Yosvany Peraza Marin (PRI) and Yenier Bello Veloso (SSP).
Infielders: Jose Dariel Abreu Correa (CFG), Yordanis Samon Matamoros (LTU), Alexander Malleta Kerr (IND), Juan C. Torriente Nuñez (IND), Andy Sarduy Escobar (VCL), Jose Miguel Fernandez Diaz (MTZ), Dayan Garcia Ortega (ART), Raul Gonzalez Isidoria (CAV), Erisbel Arruebarruena Escalante (CFG), Yordan Manduley Escalona (HOL) and Luis Yander La O Camacho (SCU).
The infield will also be defended by Yulieski Gourriel Castillo (SSP), Maikel Castellanos Brack (SCU),Yurisbel Gracial García (MTZ), Michel Enriquez Tamayo (IJU), Donald Duarte Hernandez (PRI) and Rudith Reyes Erice (IND).
For a place in the outfields will fight Alfredo Despaigne Rodríguez (GRA), Frederich Cepeda Cruz (SSP), Rusney Castillo Peraza (CAV), Guillermo Heredia Molina (MTZ), Alexei Bell Quintero (SCU), William Luis Campillo (CNG), Yasmany Tomas Bacallao (IND), Ariel Sanchez Sanchez (MTZ) and Edilse Silva La O (SCU).
Hurlers are Yadier Pedroso Gonzalez (ART), Odrisamer Despaigne Orue (IND), Dalier Hinojosa Hernandez (GTM), Freddy A. Alvarez Saez (VCL), Ismel Jimenez Santiago (SSP), Vladimir Garcia Escalante (CAV), Norberto Gonzalez Miranda (CFG), Pablo Millan Fernandez Rojas (HOL),  Darien Nuñez Arias (LTU), Leandro Martinez Figueredo (GRA), Yoanni Yera Montalvo (MTZ), Noelvis Estenza Gonzalez (CFG), Miguel Lahera Betancourt (ART), Alexander Rodriguez Matos (GTM), Joel Suarez Hernandez (MTZ), Lenier Rodriguez Hermoso (MAY), Felix Fuentes Ortiz (MTZ), Yander Guevara Morales (CAV), Yohan Hernandez de Armas (MTZ), Yosvani Torres Gomez (PRI), Erlis Casanova Cabadas (PRI), Julio Alfredo Martinez Wong (PRI) and Carlos Juan Viera Alvarez (LTU).
Victor Mesa will be the manager of the team to tour Europe and Asia from October 2oth to Novemver 2oth.
Taken from Jit/Translated by Escambray