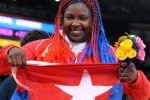 Cuban judoka Idalys Ortiz got the gold medal in the +78 kg division in the 2012 Olympic Games held in London, and  ameliorated her bronze of 2008 Beijing.

After an intense and closed fight in which they battled eight minutes on the mat of the Excel Center,  Idalys defeated Japan's Mika Sujimoto by "han tei" (judges decision).
The Cuban kind of expected this performance after winning the semifinal to favorite China's Tong Wen,  in one of the heaviest fights of the event.
This is the second gold medal of the Cuban delegation (shooter Leuris Pupo gave the first), and the first for judo in these games which adds to the two silver obtained by Yanet Bermoy (52 kg) and Asley Gonzalez (90 kg). Cuba also has a bronze thanks to weightlifter Ivan Cambar.
With this result Cuba climbed to 14th place in the medals by country.
Taken from Juventud Rebelde/Translated by Escambray