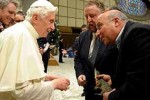 The Cuban crocodile shown to Pope Benedict XVI in a recent public hearing in the Vatican will be taken on Friday to Cuba's National Zoo, officials of the institution announced.The 40 cm long specimen, belonging to the species "crocodylus rhombifer" is arriving to the island three days before the Pope´s visit to Cuba from March 26 to 28, Cubadebate website reports.
The reptile was symbolically donated to Benedict XVI in January, on behalf of 1, 200 animals that hosts the Rome's Bio Park zoo, which celebrates its centenary in 2012.
The crocodile was named ambassador for environmental protection, peace and solidarity during a ceremony held on the zoo, in which members of the Cuban diplomatic corps to Rome and the Vatican also participated.
The head of Rome's Bio Park zoo, Paolo Giuntarelli, said that this initiative looks to prove the work of environmental protection and education conducted at the institution.
According to Giuntarelli, after arriving at Cuba's National Zoological Park, the cocodrile will undergo a physical recovery program, to later be released back into nature.
The population of "crocodylus rhombifer" whose ecosystem is limited to the Isla de la Juventud, located South of Cuba, has only 5,000 specimes, and is on the International Union for Conservation of Nature (IUCN) endangered species list. (Taken from PL)