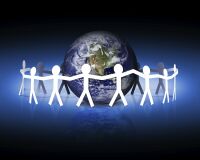 UN Secretary General Ban Ki-moon welcomed the adoption of the Durban Platform by the Convention on Climate Change, and called for its rapid implementation. The agreements reached in the South African city define how the international community will face climate change in coming years, said the Secretary General, who highlighted the decision to bring forward a protocol or a legal instrument applicable to all countries.He also said that the decision to establish a second period of the Kyoto Protocol will strengthen confidence for the coal market.
Ban Ki-moon also expressed satisfaction at the measures agreed in Durban on mechanisms that will encourage the developing countries' to clean technologies, and they will coordinate the adaptation processes one a world scale.
For the UN Secretary General, all those decisions represent a major advance in the actions related to climate change.