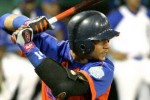 Roosters will go for a run of good luck when they face runners up in the Cuban Baseball Golden Season: Ciego de Avila Tigers. The encounters are to be played in Sancti Spiritus soil, in the Jose Antonio Huelga Stadium, during the weekend. This is roosters' 5th three-game series in the current championship.
By Elsa Ramos Ramirez
Sancti Spiritus arrived in Matanzas with a 6-3 record and placed top in the Western Region. But the so called "weak" team, this time headed by great Victor Mesa, swept Roosters away while leaving the team's performance at the bottom of the three key areas: pitching, offensive and defence.
Only two of Sancti Spiritus players average over 300: Yunier Mendoza (318) and Yuliesky Gourriel (311). Cepeda follows with 297 and the rest goes below 259.
Defence made it for a 957 average, with 20 errors in 12 games, the worst of all in the championship.
Pitching did not help either. Roosters' starters were placed top in the country before the encounters vs. Matanzas Crocodiles with a 2, 91 ERA. After these three games they are placed 7th with 3, 90 ERA.
Sancti Spiritus baseball team starts on Friday a new three-game series vs. Ciego de Avila Tigers, first placed in the pitching area. Ruperto Zamora will need of his main asset, Ismel Jimenez, who holds a 2-0 record, to regain the path of victory.