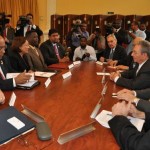 Cuban President Raul Castro met an intense agenda during his official visit to Trinidad Tobago on Wednesday, prior to his participation, heading the Cuban delegation, at the 4th Cuba-CARICOM Summit that opens on Thursday in Port of Spain.
Raul Castro Arrived Wednesday in Trinidad and Tobago today, where he was welcomed by President George Richards and Prime Minister Kamla Persad-Bissessar. After the welcoming ceremony Raul held official talks with the Trinidadian Prime Minister.
During the meeting, the Cuban President reiterated his gratefulness to Trinidad-Tobago, as well as to Jamaica, Guyana and Barbados for the establishment of relations in 1972.
Prior to the meeting, Raul Castro, accompanied by President George Richards laid a wreath at the monument paying homage to the martyrs of the First and Second World Wars, at the Memorial Park.
During talks with the Trinidadian President, the Cuban head of state stressed the significance of bilateral relations between the two countries and passed the greetings of the Cuban people.
Raul´s official agenda concluded this evening with an official reception offered by President Richards, and tomorrow the Cuban President will be heading the island´s delegation to the Cuba-CARICOM Summit.
RHC´s Barbara Betancourt said from Port of Spain that a large part of the session will be held close doors to address issues like regional integration, climate change, the increasing sea level that threatens small Caribbean island nations, disaster mitigation, drug trafficking, among other of bilateral interest, such as cooperation in different fields.