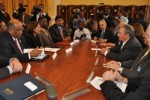 President Raul Castro began on Wednesday his first official visit to Trinidad and Tobago, where he arrived heading the Cuban delegation to the Fourth Cuba-CARICOM Summit that was inaugurated on Thursday morning in Port-of-Spain.
According to Granma newspaper, regional integration will again be the main topic of discussion, and also exchanging views on common concerns and expanding cooperation relations amidst a global economic crisis of unpredictable consequences.
On Wednesday morning, the Cuban leader was welcomed by the top local authorities: President George Maxwell Richards, Prime Minister Kamla Persard-Bissessar, and the Minister of Foreign Affairs and Communication, Surujrattan Rambachan.
Later, Raul Castro met with Maxwell Richards at his Knowsley residency. Before the start of official talks, the Cuban head of state and government signed the book of guests: "I bring to Trinidad and Tobago, along with the fraternal greetings from the Cuban people, our eternal gratitude for the full relations that, along with Jamaica, Barbados and Guyana, were established 39 years ago", he wrote.
He was referring to the decision by these four Caribbean nations to establish formal diplomatic ties with Cuba on December 8, 1972, when Havana had been isolated from the rest of the region's countries by imposition of the United States and the Organization of American States (OAS) since 1962.
Later on, Raul Castro, accompanied by his host, laid a floral wreath before the monument at Memorial Park, and went to the Diplomatic Center, where he held official talks with Prime Minister Kamla Persard-Bissessar.
At nightfall, Raul Castro and his accompanying delegation attended an official dinner offered by President Maxwell Richards at Knowsley.
On that occasion, Raul said that Cuba will continue fighting alongside all Caribbean countries to strengthen friendship ties and integration.