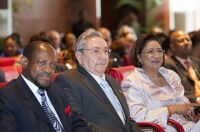 President Raul Castro reiterated in Port of Spain that Cuba will continue to cooperate with the Caribbean Community (CARICOM) and will find ways to expand and diversify the current cooperation. The Cuban head of state made his statement during the opening ceremony of the 4th Cuba-CARICOM Summit in Trinidad Tobago.
In his remarks before leaders of 14 CARICOM member states, Raul Castro referred to the dangers posed by climate change on small island nations around the world and he particularly mentioned a recent study undertaken by Cuban experts about an eventual rise of the sea level.
Raul described as very serious the consequences of such a phenomenon and he said that Cuba is already adopting preventive measures in that direction, PL news agency reported.
The Cuban President offered Caribbean nations the island's cooperation in studies related to that particular issue, so that they can take necessary preventive measures too.
The Cuba-CARICOM Summit, which is held every three years, opened at the Port of Spain Academy of Arts, an emblematic and modern facility.
The date of the summit coincides with the anniversary of the establishment of diplomatic relations between Cuba and four Caribbean nations.
On December 8, 1972, Jamaica, Barbados, Guayana and Trinidad Tobago jointly decided to establish relations with Cuba, in a moment when the Cuban government only had official relations with Mexico, Panama, Chile and Peru as a consequence of US harassment.
In brief remarks on Wednesday in Port of Spain, the Cuban President described the decision taken 39 years ago by those four nations as of great moral and educative significance.
Also during the inaugural ceremony of the Cuba-CARICOM Summit, Raul Castro announced that on the occasion of the 40th anniversary of that event, the 2012 Havana Book Fair, the major cultural event on the island, will be dedicated to the Caribbean.
Raul described as fruitful his meeting on Thursday with Trinidadian President George Maxwell, with Prime Minister Kamla Persad-Biessessar and other government officials, in which he addressed issues relevant to bilateral relations for the future.
The Summit was inaugurated by CARICOM General Secretary Idwin Laroc. Other speakers included, Trinidad Tobago´s Prime Minister Kamla Persad-Bissessar and CARICOM President Denzil Douglas, who is also Prime Minister of Saint Kitts and Nevis.
The heads of state and government are analyzing issues relevant to trade and cooperation among the nations of the Caribbean, among other subjects.
The full members of the Caribbean Community are  Antigua and Barbuda, Bahamas, Barbados, Belize, Dominica, Grenada, Guyana, Haiti, Jamaica, Saint Lucia, Saint Kitts and Nevis, Saint Vincent and the Grenadines, Suriname, Montserrat, Trinidad Tobago. Associate members of the bloc are Anguila, Bermuda, the British Virgin Islands, Cayman Islands and Turks and Caicos.  (RHC)