By Delia Proenza Barzaga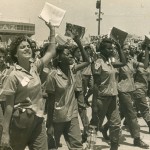 Nearly 700 people who took part in the 1961 crusade to fight analphabetism in Sancti Spiritus are being honored these days when Cuba commemorates the 50th anniversary of the Literacy Campaign.
According to sources from the educational sector here, interviews and talks have been arranged with the ones who led this honorable task, which has been the major purpose of the celebrations this year.
A ceremony will be held next November 26th in Limones Cantero, Trinidad, to commemorate the vile assassination of Manuel Ascunce Domenech and his pupil Pedro Lantigua by counterrevolutionary gangs which at the moment operated in the Escambray mountains.
The celebrations will conclude next December 22nd, the day in which, fifty years ago, Cuba was proclaimed analphabetism-free territory in a rally held by Commander in Chief Fidel Castro Ruz.