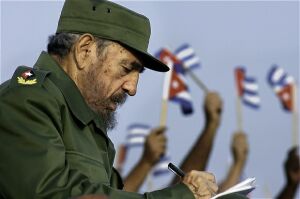 The book entitled Un ave fenix llamado Fidel (Fidel: The Phoenix) by Sancti Spiritus writer Andres Castillo Bernal was presented on Wednesday in the Provincial Museum in the Cuban central city. The volume deals with the military and political ideas of the Commander in Chief. According to Andres Castillo, the book, put to Mexicans' consideration recently, raises the significance and genius of the Cuban Revolution leader up to present times.
By Enrique Ojito Linares
When highlighting the historical dimensions of the Commander in Chief, the historian and researcher Castillo notes on his prologue that Fidel "is the champion of freedom and the fight for the humble, not only from Cuba, but for the rest of the world".
The new editorial proposal, as Bernal ensures, has as seed, antecedent and forerunner, his own text Alejandro, espiral de un pensamiento (Alejandro, spiral of thought).
Experienced in the military history of Cuba between 1952-1959, Sancti Spiritus writer is responsible for other important works such as Cuando esta guerra se acabe (When the war is over), La batalla de Pino del Agua (Pino del Agua's Battle), Tronaron los fusiles sierra abajo(Rifles thundered in the mountains) and Che, la tentación de un beso (Che, a kiss temptation).
The presentation of the book Un ave fenix…was included among the proposals of the socio-cultural project La Guayabera, in the context of the celebration of Sancti Spiritus Culture Week, to take place from December 21st to 25th.